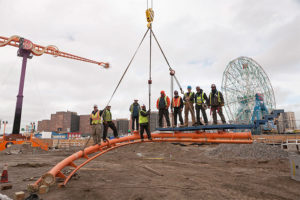 When you walk in to the entrance of Brooklyn Public Library's Central branch stop and look up. There you will see the 130 foot muural featuring artist Stephen Mallon's large format photographs of Coney Island's Soarin' Eagle roller coaster construction and subway cars on their way to becoming artificial reefs.
Most people look at construction sites and machinery and see nothing more than concrete and steel. Stephen Mallon looks at them and sees both a surreal beauty and the wonder of their engineering. This exhibition features work from the series American Reclamation: Next Stop Atlantic, where he documented the progress of the subway cars on their destination out to sea from 2008 to 2011 as a result of NYC's MTA joining the artificial reef-building program off the east coast of the U.S. in 2000.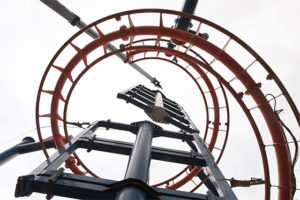 The moment the car hits the water there's this Titanic-esque moment when the water overtakes the car as it sinks. It's incredibly fast—from the moment it's picked up and thrown overboard for the fishes. The change from seeing steel lying on a barge out in the Atlantic to watching water rush in as it hits the ocean is quite dramatic. Commissioned by The Wall Street Journal, the Soarin' Eagle photographs document the process of building the Coney Island roller coaster. Stephen Mallon chronicled the construction of the Soarin' Eagle, from disassembled pieces of brightly color metal to thrill ride towering over the boardwalk. The Soarin' Eagle is one of the first new roller coasters in Coney Island since the Cyclone debuted in 1972.